Lucie Tran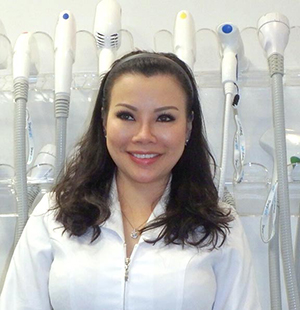 Lucie is certified medical skin therapist who is holding a diploma from the International Derma Institute (2010).
She also possess medical aesthetician diploma from Marca College. (2011)
Lucie is a renowned permanent makeup artist.  She has been successfully performing that procedure for over 10 years.
Another service that Lucie specializes in is Botox and Filler injections.  She possesses Botox and Filler certificate from Dr. Martin's Training Centre, but developed her own technique by combining artistic and scientific approaches to reshaping the human face.
In addition to the aforementioned services, Lucie is an advanced Laser technician.  She successfully performs a vast number of Laser skin treatments that include but not limited to Laser Hair removal, Acne, Scars and Hyperpigmentation removal, Vascular Lesions treatments, Cellulite reduction, Laser peel (Fractional) and Tattoo Removal.
The other popular services that Lucie performs are eyelash and eyebrow extensions, facials, wellness massage, body fat reduction, skin tag removal, non-surgical face-lift and microdermabrasion.