Brightening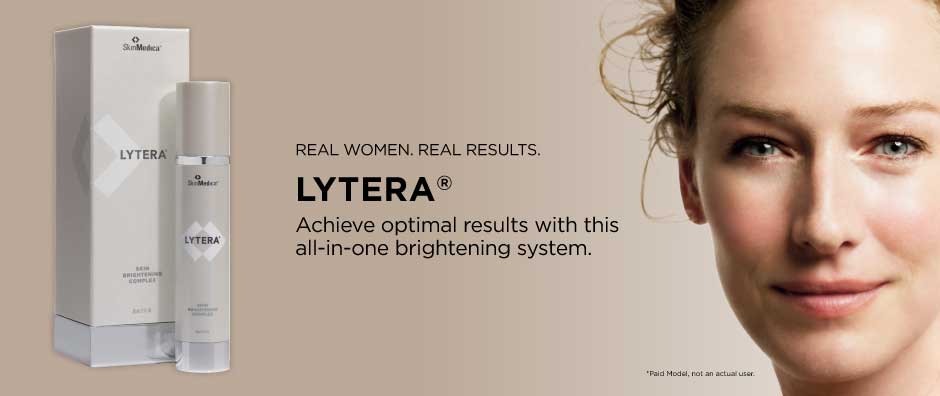 BRIGHTENING – naturally beautiful, more radiant skin emerges while using SkinMedica's innovative brightening products. They're formulated to help reduce the appearance of dark spots and transform dull skin into brighter, more luminous, youthful-looking skin.
---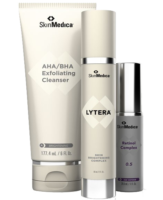 LYTERA SKIN BRIGHTENING SYSTEM WITH RETINOL COMPLEX 0.5 – if you're looking for a more elevated approach to skin brightening, try SkinMedica's simple, yet effective, comprehensive brightening system. Easy to use and optimal results without specific combination of products. Allows for seamless incorporation of your other SkinMedica products. This system includes the following products:
AHA/BHA Exfoliating Cleanser
LYTERA Skin Brightening Complex
Retinol Complex 0.5
       1 kit – $227.00
---

AHA/BHA EXFOLIATING CLEANSER AM/PM AS TOLERATED – refining treatment with combination of alpha-hydroxy and beta-hydroxy acids that cleanses skin while improving radiance and luminosity. Helps improve the appearance of skin texture, tone and smoothness through mild exfoliation. Very gentle; ultra-fine jojoba beads exfoliate without scratching the skin.
177 ml – $50.00
---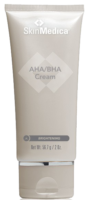 AHA/BHA CREAM AM/PM AS TOLERATED – contains alpha-hydroxy and beta-hydroxy acids. Promotes healthy exfoliation.
56.7 g – $46.00
---

LYTERA SKIN BRIGHTENING COMPLEX AM/PM – effectively reduces the appearance if dark spots and skin discoloration, creating a more even skin tone. Results seen as early as 4 weeks with continued improvements over time. Ideal for all skin types, non-hydroquinone, elegant formulation.
60 ml – $140.00