Eye Treatments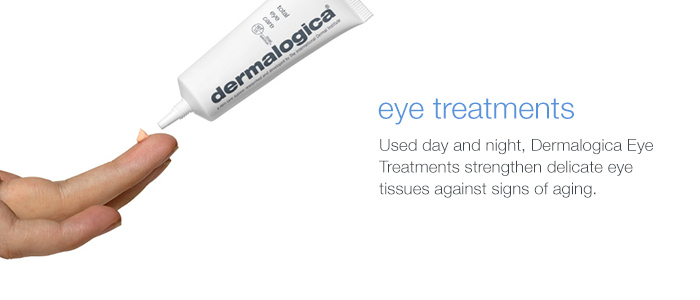 ---

AGE Reversal Eye Complex
15 ml – $113.00

Intensive Eye Repair
15 ml – $83.00

MultiVitamin Power Firm
15 ml – $89.00

Soothing Eye Make-up Remover
118 ml – $35.00

Total Eye Care SPF15
15 ml – $75.00

Ultrasmoothing Eye Serum
15 ml – $78.00
---
Overview
Used day and night, Dermalogica Eye Treatments strengthen delicate eye tissues against signs of aging.
Protect the health and appearance of your eyes with our Eye Treatments, designed to be worn for enhanced protection against environmental assaults while nourishing, hydrating, brightening and minimizing the appearance of dark circles and fine dryness lines.
---
How It Works
The skin around the eye area is thinner and more delicate than anywhere else. Continual free radical assault breaks down collagen and elastin fibers that help keep skin smooth and firm. Tissue in this delicate area also has fewer oil glands to help block penetration of topically-applied products or chemicals from the environment.
Combine this with decades of squinting in the sun, late nights, lack of sleep and inadequate environmental protection and you have the tell-tale signs of eye area aging.
The most prominent eye area concerns include wrinkles (crow's feet), puffiness (under eye bags), dark circles due to hyperpigmentation, and skin sensitivity due to dehydration. When treating these issues, it is important to take care not to use anything that will cause irritation.
For this reason, Dermalogica Eye Treatments deliver a uniquely effective level of preventative care and protection from future assaults without over-stimulating this delicate area. The result is an eye area that is healthy and reflects fewer signs of skin aging.
---
Where to Start
Revitalize the skin around the eyes with Dermalogica Eye Treatments! Come in and for a free consultation with our skin care specialists and find the products that will meet your eye care needs.