Daily Groomers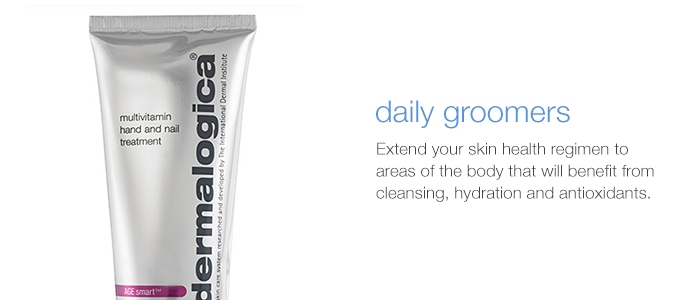 ---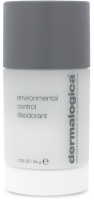 Environmental Control Deodorant
64 g – $30.50

Shine Therapy Shampoo
273 ml – $25.00

Silk Finish Conditioner
237 ml – $26.50
---
Overview
Dermalogica Daily Groomers extend your skin health regimen to areas of the body that will benefit from cleansing, hydration, antioxidants and soothing botanicals as much as the face does. Maintain and improve your appearance and psyche with daily grooming rituals, key to our state-of-mind, self-esteem and total skin health.
---
How It Works
Shine Therapy Shampoo and Silk Finish Conditioner
Struggling with hair breakage, thinness, and excess oiliness? These hair conditions could be stemming from your scalp!
Improve hair and scalp health with Dermalogica Shine Therapy Shampoo and Silk Finish Conditioner. Both are pH-balanced to deliver the benefit of a purified, stimulated scalp and super clean hair with a healthy, silky finish. Clarifying and stimulating extracts of Tea Tree and Eucalyptus purify, remove excess oils and debris, and stimulate the scalp. Wheat proteins, Vitamin A, Pro-Vitamin B5 and Ylang-Ylang extract deliver a soft sheen and manageability.
Environmental Control Deodorant
Blaming perspiration for your underarm odor? Perspiration is actually nothing more than water, salt and Urea: and is completely odorless. Only when perspiration comes in contact with bacteria, and the bacteria begin to break down, do unpleasant odors manifest.
Bacteria aren't the only triggers of underarm odor: certain toxins can cause underarm odor, and, some research reveals that hormone changes and metabolism rates of women who are going through menopause can play a role in body odor. Keeping the area clean while wearing breathable clothing is the best way to keep underarms of odor.
If you're struggling with underarm irritation, skin health experts recommend switching from an anti-perspirant to a deodorant that is free of aluminum. Aluminum salts in anti-perspirants can cause contact dermatitis: an inflammatory skin reaction triggered by allergens or irritants.
Environmental Control Deodorant is free of potentially-irritating aluminum and is fortified with a refreshing, aromatic blend of essential oils to naturally fight odor. An aromatic essential oil blend of Parsley, Lavender, Eucalyptus, Lemon and Rosemary (bacteriostats and bacteriacides) help inhibit and eliminate odor-causing bacteria. An added benefit: the clear formula won't stain clothing and leaves no white residue.