Toners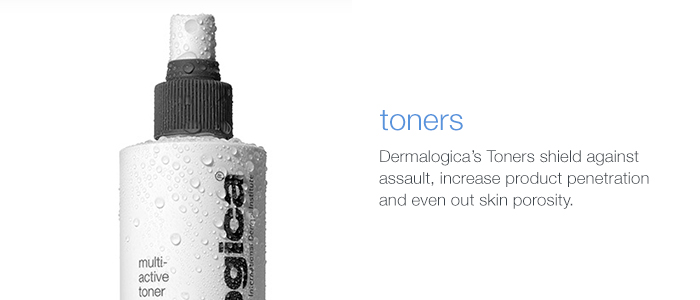 ---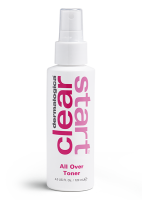 All Over Toner
120 ml – $29.00
Antioxidant HydraMist
150 ml – $62.00

Multi-Active Toner
250 ml – $56.00

Skin Purifying Wipes
Each – $26.00

Pore Cleaning Scrub
75 ml – $29.00
---
Overview
Dermalogica Toners shield against assault, increase product penetration and even out skin porosity. All are S.D. alcohol-free, meaning they won't strip skin.
Toners are a critical part of your daily regimen, delivering critical hydration and specific skin condition benefits. Use after cleansing and throughout the day to refresh and rehydrate as needed.
---
How It Works
Over the years, toners have gotten a bad rap; some even say toning is an unnecessary step in your skin care routine. The skin health experts at Dermalogica disagree! Before we tell you why, it's important to understand where these opinions on toners come from.
The main ingredient in most toners is S.D. alcohol. It gives the "cooling" sensation that so many interpret as a benefit. In actuality, S.D. alcohol is stripping every trace of oil from your skin. Because oils are needed for a healthy skin condition, oil glands then overproduce oil to make up for what has been removed. The result can often be a more oily skin than before. For drier skin conditions, S.D. alcohol can intensify dryness, leading to sensitivity and premature aging.
S.D. Alcohol-based toners should not be a part of your regimen — but, hydrating, alcohol-free toners should be! Dermalogica Toners deliver many skin health benefits, including evening out skin porosity, intensifying hydration, soothing redness, controlling oil production and shielding against skin aging triggers. Dermalogica Toners also extend the life of your moisturizer! You'll use less when you apply over damp skin that's been spritzed with a Dermalogica Toner.
If you've relied on Alcohol-based toners to deliver the feeling of a "deeper" clean, the skin health experts at Dermalogica recommend the Dermalogica Double Cleanse that starts with PreCleanse and finishes with your prescribed Dermalogica Cleanser. You'll get that "deep clean" feeling when you effectively remove long-wear make-up, oils and debris without stripping skin.
---
Where to Start
Find the Toner that's right for your skin! Come in and for a free consultation with our skin care specialists and reveal the toner that's right for your needs.